Jaeger LeCoultre NOS 1970 Master Quartz Silver Linen Dial Gold Watch BOXED Mint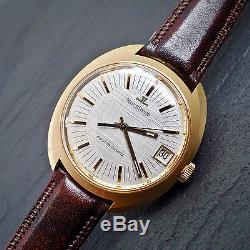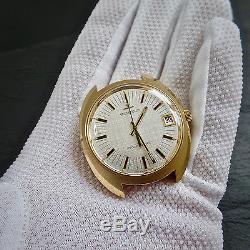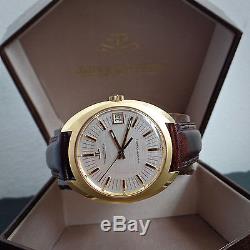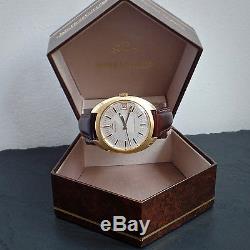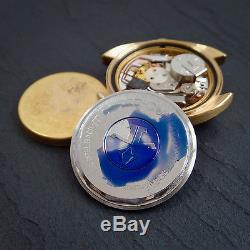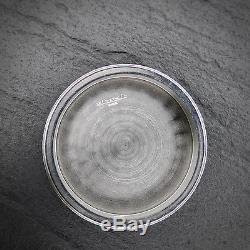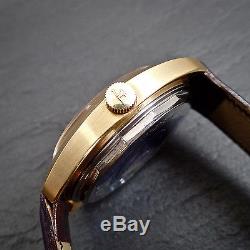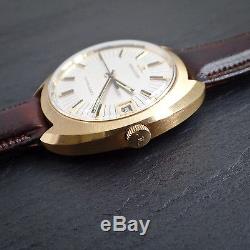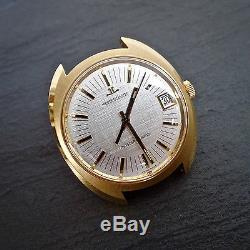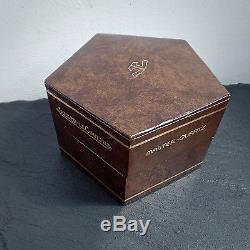 FIRST Analogue Quartz Movement developed by Girard Perregaux. We need to talk about it. Especially the transitional Quartz we do waffle on a little about quartz from time to time as those who might "follow" us will know, but seriously you might want to start looking at it in a different way.. It defines the modern world of watchmaking. And yet, way back then, it was "Ground Untested" -an unknown quantity whose influence had yet to be felt.
We're very pleased to present to you one of the most important and influential watches you've probably never heard of: The Jaeger LeCoultre Master Quartz with the Girard-Perregaux Caliber 352. In the Horological community, generally, we encounter daily a visceral hatred of "Quartz" as a general concept.. This technology that was both so much more accurate and so much cheaper than mechanical movements. It very nearly ruined Swiss watchmaking industry the widespredd use of terms like "The Quartz Crisis" dont help.. We are ranking quartz up there with The C.
Old War Ebola and ISIS.. However this "Crisis" has led to some amazing innovations and some incredible Unique and often "Far Out" Timepieces Take a look at our Certina Biorhythms! The Girard Perregaux Quartz is really an unsung hero of the quartz world. What many may not realize is that there was a very important step between the early Hamilton 500's the Tuning Fork's that followed and the Beta 21 to what we know see as mass-market quartz, and Girard-Perregaux 350 in large part made that possible. GP not only figured out how to increase accuracy, but also how to improve battery life.
These innovations set the gold standard for quartz and made the technology good enough to mass market. And Jaeger-LeCoultre were wise to this adopting this as one of their only real "Outsourced" movements when you think of Jaeger LeCoultre we think of one of the true trailblazers of TRUE in house movements so it would surely take something Exceptional to make them look outside their own "Hose" for innovation technology well here is why.
The 350 introduced a frequency of 32,768Hz, with an advertised accuracy within about 0.164 seconds per day. This accuracy was previously unobtainable and set the frequency standard for decades. The information provided by Girard-Perregaux about this movement is as follows.
The GP-350 movement was equipped with an integrated circuit produced by Motorola, bringing together the equivalent of 300 transistors within an area equivalent to 5 mm2. Its consumption was reduced to 4 micro-amperes, enabling sufficient battery life. This was the first time that quartz wristwatches passed the static and dynamic tests (impacts, magnetism, temperatures) at the Neuchatel Observatory.
The importance of this movement cannot be overstated. It not only increased the accuracy by 4x and created the market standard for frequency, it also allowed the battery to last long enough to be acceptable by the market. Most importantly, it paved the way for quartz technology to become reliable and robust enough to have the market impact that it did.
It is also awesome to see a Motorola logo on a watch movement that existed almost 45 years before smart watches. Additionally, unlike most modern quartz movements you can actually see gears moving in this one as soon as you get the caseback off. Unfortunately, this technology also nearly toppled the entire Swiss watch industry. The beauties of this watch, inside and out, make it a tragic hero of horological technology.
One more bit of trivia? Dating these models is Surprisingly straightforward, If you look closely at the Motorola circuit you will notice four numbers at the bottom. It is believed that the first two numbers denote the year of manufacture and the second two denote the week of that year. In the circuit pictured 7344 refers to the 44th week of 1973. Rarely can you get so accurate as this watch is from the time period of October 29, 1973 and November 4, 1973.
MINT condition all original Alternating radial brushed finish & polish finish a "Jumbo" vintage at 38mm in diameter (excluding crown) 40mm (Inclusive) Of course orriginal signed JL crown 43mm Lug tip to lug tip & 18mm lug spacing. Screw down case back in stainless steel this watch still featuring a lot of its protective "resin" straight from the factory NOS. Silver Satin Dial Gleaming Gold indexes jet black inset matching classic "stick" seconds and Sweep centre date aperture at 3.
We could rave about this dial but realistically we can let the images speak for themselves. Well thats a HIRSCH Tho its always nice to have an orriginal Jaeger LeCoultre strap these did not hold up these last 40+ years quite as well as the watches can. Even unworn 40+ year old leather will deteriorate unless kept in the most specific of conditions.
But we like to think we know a thing or two about matching a good strap the Hirsch Ascot is a perfect addition to this watch that balance of Modern and classic a heavy zig zag stitch thick padding and that lovely Mottled chesterfield red make a fine watch strap well suited to the style and overall look of the watch. First analogue quartz wrist watch. If you are a serious collector, you would be hard-pressed to find a nicer example.
D give us a call. We are happy to answer any specific questions about this watch and introduce you to who we are and the type of company you are purchasing from.
ALSO our feedback and star ratings are very important to us. We will do all that we can to resolve any issues swiftly and amicably and ensure you get the best. The item "Jaeger LeCoultre NOS 1970 Master Quartz Silver Linen Dial Gold Watch BOXED Mint" is in sale since Thursday, June 08, 2017. This item is in the category "Jewellery & Watches\Watches, Parts & Accessories\Parts, Tools & Guides\Watches for Parts". The seller is "fullywound" and is located in Folkestone. This item can be shipped worldwide.
Brand: Jaeger-LeCoultre
Type of Part: Whole Movements
Country/Region of Manufacture: Switzerland
---